Testimonials
for Mirage Sportfishing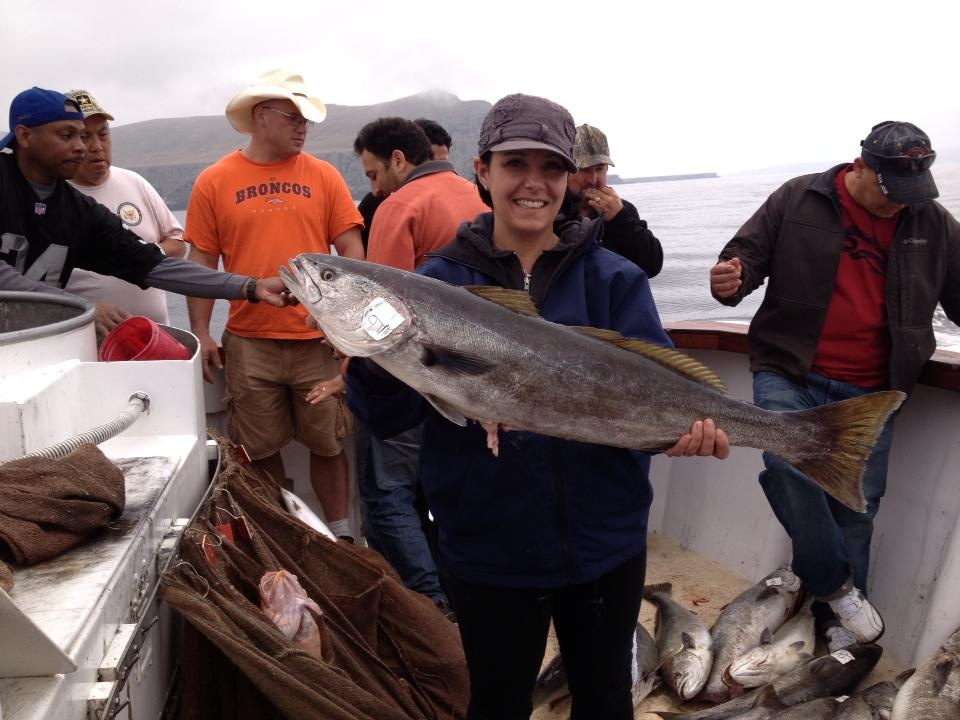 This was the best trip I have EVER been on. We anchored out at Santa Cruz around 3 am to get live bait from the squid boats and then hold tight until morning so we could try for some sea bass. SEA BASS!!?? I had no idea this was the plan and was beyond excited. I had never caught one and was now going to be in the middle of them. We caught 29 of them within 2 hours. The limit for that day. I don't know what made me happier, catching one or watching Darlene being led around the boat by the deckhand as she fought with hers. Probably a tie. From there we went on about an hour cruise to the gap between Santa Cruz and Santa Rosa Islands for some rock fishing. These were the biggest reds and chuckleheads I have ever seen. I reeled in more than a few rod bending doubles. When our time was up, we drug our tired bodies to our bunks and fell asleep. When I awoke the shore was in sight, the fish were cleaned, and the crew was finishing the clean up for the next trip in just a few hours.
The crew insured, with great professionalism and humor, that we had the best experience possible. What an amazing bunch of guys. It is always refreshing to be around people that enjoy their work. They made this trip perfect for us. I cannot wait to get back out on The Mirage. I am looking forward to the next overnight trip which I booked as soon as I got home. Thanks again. Trent
To the crew of the Mirage. Thanks for a great trip and lifelong memory. A few photos and a short article from the trip. See you in July! Sincerely, Bob Wells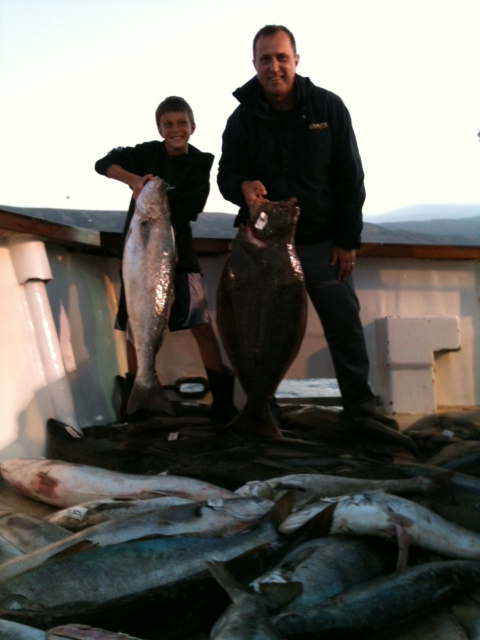 Capt Joe, Erin: We got back late last night from our trip onboard the Mirage and my son Nathan (12) is still so excited and happy about our trip! Fishing and weather were perfect, but what made the trip so memorable for us was your outstanding crew. Deckhands Ryan and Chase were extremely helpful and friendly as was Andrew and his wife in the galley. I had a number of passengers come to me and say that they would bring out their children on future trips, probably because they saw how much fun Nathan was having. I really appreciate the family-friendly atmosphere.
We look to book another trip with you and would be glad to get any advance schedule for next year.
Thanks and our best to you,
Tony and Nathan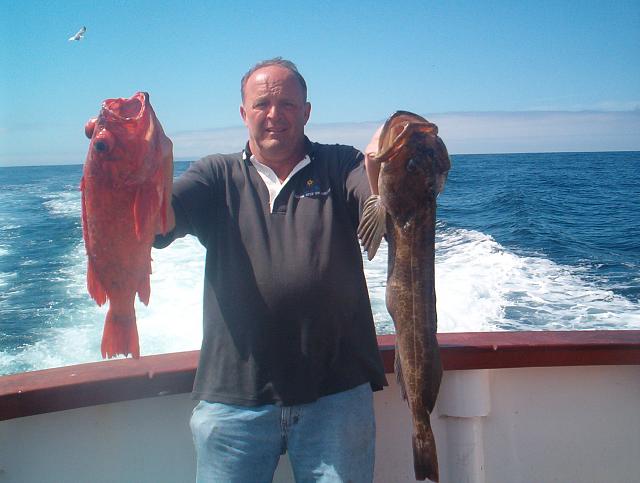 Hello Joe and Erin,
I just wanted to thank you for sending us out Sunday night with such a short load. My nephew and I decided to do an overnighter sunday night so I booked us on the Mirage. At the time I called the had 12 ppl booked and they told me it was a go. It takes me 3 1/2 hrs to drive down. When we get there the guy at the landing said that we need to wait to make sure they had at least 10 ppl. I guess 3 flaked out. It ended up with only 9 of us, I thought for sure that they wouldn't go out. They called the owners of the boat and to my suprise they sent us out. They had to loose money on this trip. We limited out on rockfish at 10 am and the lings around noon. When we got back to the dock my nephew and U did a turn around for that night. It was one of my all time favorite trips. I won the jackpot both days. I paid for the galley and fillet then gave the rest to the crew. So if you haven't fished this boat please try it. They have me sold as the best from Channel Islands Sportfishing. Thanks again, Steve
- Steve Cullinan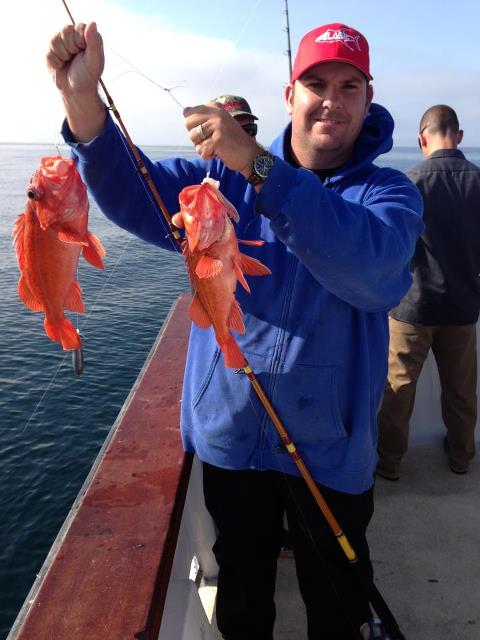 The crew really made the trip, these guys are awesome. I will definitely be going back the next break I get. Great job Mirage. Keep up the good work.
- Captain Justin Fleck, Excel sportfishing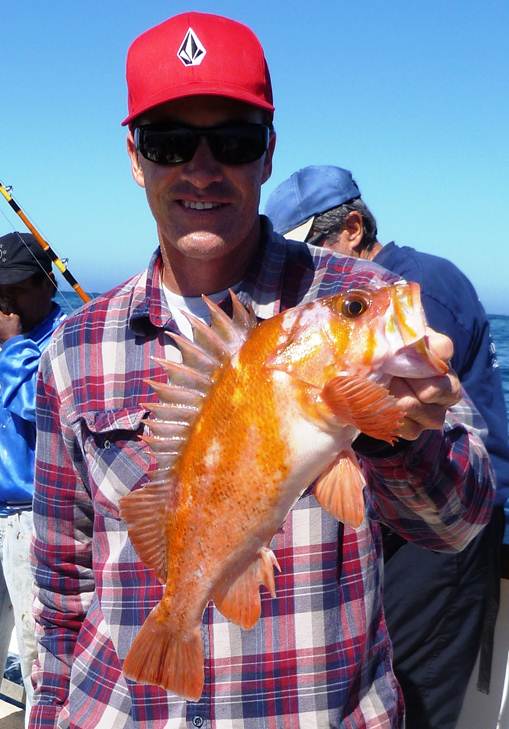 Hi Joe,My name is Ron Wood and I fished aboard the Mirage on 6/26…I was surprised that we were able to fish a bit longer to insure that most people limited out on rockfish!The reason I even fished aboard the Mirage was because I occasionally work in the Oxnard area (I'm from San Diego) and went by the landing after work to miss traffic on the way back home. While there I saw a couple of boats return and spoke with a few people… They all seemed to recommend the Mirage! I look forward to fishing with you again when time permits! RW.
Wanted to let you know what a great time I had on Thursday's San Miguel trip.
It all came together. The weather, crew,new friends and the fishing. Limits of
chunky Reds and a 26 lb. Halibut.
Thanks for posting my pic. I fished the Mirage back in the 80's and I gotta say
you're organization today is # 1.
Thanks Tom
- Tom
WOW!!! I was on the 2 day trip this week and I just saw Scotts picture on the website. Once again I am sending you a praise that all anglers should send. first thank you Erin and Joe for establishing a legendary outfit, Thank you! The crew Andrew with his great floral design (ha! ha!). His great cooking and attentive to serve all whenever, was just great. Ryan and Dan, I cant say enough. I have never seen anybody work so hard in my life! and still give complete dedication to the anglers! unbelievable and my hats off to those two, they rock and I really enjoyed their company!! Erin, I was lucky enough to get jackpot the first day and I was lucky to be on this 2 day trip. thank you so much, I sent you a gratifying a-mail last year and hope to send you more in the future! The mirage is the class act of sport fishing period. Thank You!
Louie Enriquez!
I just went on a trip yesterday on your boat and I just wanted to take
a moment to complement you on your crew. I was extremely impressed by your
team, from the energy level, to the friendly
atmosphere on deck with Ryan and Dan, and of course with the smile
coming from the cook in the galley. Easily one of the best trips I
have had in my 30 year career riding sport boats.

Since they commented that most of your trips are charters, I was
wondering if you had an email list, announcing when spots on some of
these private charters might open up. If so, please add me to the
list. I would love to continue to ride your boat more frequently. Even
with the added distance from my home in Pasadena, it is well worth the
trip.

Thanks,
Tim Presiado

I wanted to express my thanks to the crew of the Mirage for my fishing experience last Thursday/Friday.

I really appreciated the help of the crew – Dan and Ryan. They were always helpful and patient (we had quite a few line snags that day, and a number of re-ties as well).

Andrew not only did a great, friendly job in the galley but helped out on deck as well.

The Mirage had been recommended by some of my coworkers, including Andy Huntley and Robert Wong, and they did well by me.

This was my first trip on the Mirage, and certainly not my last.

--David Naismith



Andrew I want to thank you so very much for taking care of us on our trip. Please tell Dan and Miguel that I appreciate all they did. You guys are by far the best crew we have ever had .
Again thank you and make sure you tell the guys how grateful I am. See you guy's soon.
- Frank Lopez
Erin, Capt. Joe and Crew,
I wanted to take a moment to thank all you guys. THANK YOU! We had an absolute great time! Everyone in my charter commented on how friendly and helpful the crew had been aboard the "Mirage". Thanks for making such a comfortable experience for all my guests. What a professional group of people you guys have put together to run your boat.
Where do i start?
> Erin, Thanks for being so nice and helpful setting everything up. what an easy, pleasurable experience.
> Andrew, Thanks for the great food, laughs, and most of all thanks for taking good care of an 82 year old guest i had on my charter who got sick.(literally rubbing his back) very kind of you!
> Ryan, Thanks for all your friendly help and patience as usual. Thanks for your generosity! Someone on my charter asked to bum a cigarette from you and you gave him the whole pack!
> Dan, Thanks for all your friendly help and patience as well. Great job dealing with 10 people with rentals rods. That was a lot of tangles to undo.
These are just a few things that stick in my mind. All in all you guys kick ass! Thanks sooo much and we'll see you guys soon!
Best,
Jonathan Wilson
Just a note to let you know how much I enjoyed the trip this past week.
Everyone who works for you was very professional and the deck hands were just the best with helping a rookie from Florida. Ryan and Richard gave me many California fishing tips.
Ryan is a Captains dream for a deck hand and really knows his stuff about California fishing and how to make your customers feel comfortable and not feel like they are being a pain when they ask questions.
I caught many fish of different species and had a test run on eating when I got home and was very pleased with the great meal. Mamma said If I keep catching like that I can go again, LOL.
Well thanks again and I hope to make many more trips between my music tours. And what a great way to spend my down time.
Thanks
John
Captain Joe,

I went out on an overnight trip July 15-16.

I have to say that this was the most friendly, personable crew I have ever had the pleasure of fishing with. And they were damn good too! In my experience, the quality of a crew is hit or miss. It is not atypical to have a young crew that looks to the customer as nothing more than a pain in the ass and they only become pleasant when it is time for tipping. Not so with your crew. I was actually amazed by how genuinely friendly and helpful they were from the very first minute we stepped on the boat.

The sheer amount of tangles that Dan and Ryan had to unravel was phenomenal, yet they did it graciously. They also took the time to learn individual names and provide instruction or encouragement as needed. You don't see that very often. Andrew is an exceptional "chef" and quite a character. Always courteous, polite and professional. It was a pleasure getting to know him.

Also, the fact that you do not gouge customers for cleaning/filleting the catch is a definite plus. I would much rather tip the crew well than spend the same money simply to clean my catch.

In short, I look forward to fishing with your crew again. Thanks again.

Regards,
Wayne



Your Crew on the the "Mirage" are professionals, fun. Helpful deck hands
excellent food, great Captain. We had a blast yesterday "lots of laughing". I
have fished other sport fishing boats and have been disappointed with the crews
and over all lack of professionalism, I will definitely be back to fish with
your crew again and send you referrals.

Joe M

Dear Joe, I am happy to say that I had the best time fishing upon your vessel, the Mirage. Your captain knows what to do and the crew is extremely helpful and personable. I especially thought Ryan was the most amazing and he worked well with Chase; both proactive and totally on top of things.The amazing Kelly also jumped in to help every second she wasn't cleaning and grilling; such an interesting young lady.
I had a great time with my friends aboard from the Glendora Rod and Reel Club, as well as the others. Also, we caught great fish! Thank you.
Hello,

Just wanted to thank Mirage Sport fishing for a great trip to the outer islands. I have had a fishing/catching slump all this season and the great crew of the Mirage remedied that.

I was very appreciative of the Captain's relentless effort in finding and putting us on the fish and the diligence of the whole crew to accommodate all of us anglers regardless of experience. See you at the shootout.

Thanks again,

Kyle
After being away from fishing for 5 years I booked a trip on the Mirage in November and took my brothers on their first Mirage trip. The crew remembered me as if I had been there the day before and treated my family like regular clients. I went on 4 more trips after that and had a great time with Andrew, Ryan, Chase, Justin, Casey and Luke. The staff always treat guests with the utmost professionalism and because of this the Mirage is the only boat we will ever fish on when fishing in Southern California. I look forward to many more trips and possibly some charter opportunities in the coming year. I especially look forward to booking a few 2-day trips with the crew.

Robert M.
I just came back from the two day trip on the 25th and I wanted to thank you for giving me the opportunity to be on that boat!!! What a fantastic time. I wanted to do a shout out on your website but I don't know where to go. First, I wanted to compliment your crew starting with Ryan and the deck hand team. Ryan keeps things together, really works hard for us and makes the trip amazing. I remember one guy on the boat saying that this trip felt like a private charter and not a bunch of strangers fishing together. The crew keeps us organized, on pace and always up to date with what's happening and what to expect. When I hooked into my first tuna, Ryan and the team stayed with me the whole time talking me through what to do, what to expect and in the end, I landed my first ever tuna, awesome. The Captain was hooking into tuna and handing off the pole to help some of us more tuna challenged. Anyway, just a wonderful experience and the reason why I will only spend my money with you and your team. I don't know when the new schedule comes out for next year but man I'm in!!!! Thanks again
- Scott Denney
Hi Captain Joe, it's a pleasure to greet you through this email. I recently went on one of your overnight trip abd would like to thank you and your crew for the wonderful service! Even though the weather didn't cooperate you guys went out of your way to Make it a pleasant trip. Thank you! I've tried to book one of your 2 day trips, and it's just impossible! Anyways someone told me that the only chance I might have is to contact you directly over an email, So I thought I'd give it a try. If there's any chance you could find a spot on the months of July - September. I would jump on it with out a blink! Thank you for your time, and again you and your team are the best! I wish you the best of fighting! And may God protect you abd your crew on your voyages.
- Juan Berrera
Once again thank you very much
The picture turned out great, I printed out a nice big copy
My granddaughter loved it.

You folks run a very classy operation & I will be happy to go again when my schedule allows
Thanks again
Tim
Please consider this as a testimonial. 7/08 over night was my 2nd trip on the Mirage. My first trip was one of absolute pleasure. will the next trip be the same? Maybe even better. The way you treat your customer is just short of a cruse ship. fishing was not as out standing the 1st time, but not because you didn't work hard at it, You did and it was really good. Thanks to you and that great crew.
- Earl